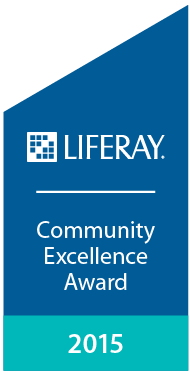 Montreal, November 24th, 2015 — Savoir-faire Linux® — an exceptional team of 110 Free Software Consultants based in Montreal, Quebec City, Toronto and Paris — was honored with a Liferay Community Excellence Award at the Liferay North America Symposium which was held last week in Chicago. This prestigious annual award recognizes ten Liferay partners who have shown unique and valuable dedication to the Liferay open source community and contributed significantly.
"We are very much honoured to receive this award from Liferay for the 5th year in a row", said Savoir-faire Linux's Executive Vice-president Christophe Villemer, in a short thank you video uploaded online shortly after the Award Ceremony on November 17th. "I am particularly proud of our team for the amazing work they do with our customers and the community (…), Sven Werlen, Marat Gubaidullin, and all our certified developers and trainers."
Liferay develops the leading open source portal and collaborative tools for the enterprise. Savoir-faire Linux, which started to explore the potential of this platform based on the Java technology in 2008, is now in the global Top 30 of Liferay's Platinum Partners.
"Liferay strongly believes in the power of open communities to develop high quality software", said Liferay's Community Manager James Falkner. "The Community Excellence award is an important part of that — it recognizes those leading companies that have given much more than they have received and that share our same open spirit. Savoir-faire Linux continues to be an important part of our success and Liferay is pleased to recognize them for their achievements in our community."
About the Liferay Community Awards
In open source project, community excellence is expressed in several ways:
Best partners standing out by their community excellence gain skills and influence. They thrive with the community.
As a matter of fact, Savoir-faire Linux is pleased to congratulate other recipients of these Community Excellence Awards 2015: ACA-IT (Benelux), Ambientia (Finland), Arcusys (Finland), Cignex Datamatics (Asia, Americas, Europe), Permeance Technologies (Australia), SMC Treviso (Italy), EmDev (Russia), and XTIVIA (U.S.A.). As our social media editor wrote on Twitter: "One for all and all for… Liferay!"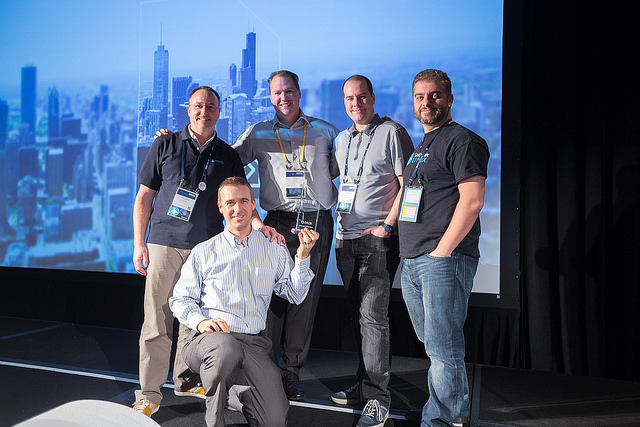 About Savoir-faire Linux
Since 1999, Savoir-faire Linux has developed a unique expertise in Free and Open Source Software, helping Canadian companies and public organizations meet the challenges of information systems in constant evolution. With a multidisciplinary team of nearly 120 consultants (in 2015) based in Montreal, Quebec City, Toronto, and Paris, Savoir-faire Linux delivers services to over 500 organizations, including government bodies, major international agencies, industry giants, and SMEs/ SMIs. This great ISO 9001 and ISO 14001 certified company is a proud Silver member of the Linux Foundation, a Liferay Platinum Partner and a Red Hat Advanced Partner. It has also a strong presence in many Free Software communities.
About Liferay
Liferay, Inc. is a leading provider of enterprise open source portal and collaboration software products, servicing Fortune 500 companies worldwide. Clients include Allianz, BASF, Cisco Systems, Lufthansa Flight Training, Société Générale, Rolex SA, Siemens AG, The French Ministry of Defense, and the United Nations. Liferay offers Enterprise Edition subscriptions, which provide access to emergency fixes, software updates, 24/7 support SLAs, and subscription-only features. Liferay also offers professional services and training to ensure successful deployments for its customers.Liferay, Liferay Portal, and the Liferay logo are trademarks or registered trademarks of Liferay, Inc., in the United States and other countries.