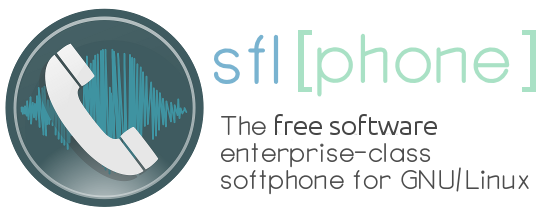 The SFLphone SIP/AIX2 client for Linux development team is proud to announce the release of SFLphone 1.4.0. Following is a summary of the main release notes of this version.
Video is here
Among the many changes and improvements, the video implementation has been deeply reworked to be much more robust against a variety of conditions and make the configuration more flexible. It is also now possible to stream a variety of video or image file types and to share your screen during a call.
Audio improvements
Other major features include support for the JACK audio system, widely used across the professional audio industry.
Thanks to improvements in audio buffering, latency and resampling, audio quality is noticeably better as well.
Changelog
Daemon
Jack support
Video support by default
Ability to share screen
Ability to stream videos, images and text files
Support GnuTLS as an alternative to OpenSSL
Persistent camera configuration (per device)
Switch video sources during a call
Enable or disable video per account
Packet loss concealment
RTCP support
Builds with clang
KDE client
Now a fully featured contact manager

Add, edit and manage contact sources
Delete contacts from the interface
Attach contact sources to auto completion or presence tracker

Basic video effects like rotate and enforce aspect ratio
Video full screen mode
Gnome client
Single-window video
New icons
Partial validation for SSL certificates