Leading open-source technology event will showcase Savoir-faire Linux's expertise and advanced services in Chicago
Montreal, QC – October 29, 2015 – Savoir-faire Linux Inc., an outstanding team of 110 Free Software consultants and Liferay certified developers based in Montreal, Quebec City, Toronto & Paris, announced today its participation as a Gold Sponsor at this year's Liferay Symposium North America.
Hosted by Liferay, Inc., the world's leading open-source portal provider, the Liferay Symposium North America will take place from November 16 to 17 in Chicago. This premier event for Liferay's business and technical users and developers in North America will include two days of expert sessions, hands-on workshops, networking opportunities, access to Liferay's top executives and architects, and keynotes from open-source community leaders.
"Savoir-faire Linux is proud to be once again a Gold Sponsor at the Liferay Symposium North America," said Christophe Villemer, Executive Vice-President of the Canadian company. "We look forward to meeting other Liferay enthusiasts and to supporting some of our canadian customers to this major event." Savoir-faire Linux has won a Liferay Community Excellence Award four years in a row, from 2011 to 2014. "Given our contribution to the success of our clients with large-scale Liferay projects in industries such as finance, education and manufacturing, we hope to bring back home another one this year", added Christophe Villemer.
"We have a lot to share to the Liferay community about our strong devops expertise in complex infrastructure management and automation," said Sven Werlen, Vice-President – Enterprise Solutions, at Savoir-faire Linux. "We excel in assembling free software bricks and legacy components that cannot be replaced easily. We demonstrate at the Symposium how easily new environments can be deployed and configured to meet your agility and speed to market requirements."
"We are happy to have Savoir-faire Linux join us again at this year's Liferay Symposium North America." said Brian Kim, Chief Operating Officer for Liferay in conclusion. "Our partners play an important role in Liferay's success and having this great team at our event brings added value to our attendees looking to meet the industry's top-level enterprise technology vendors."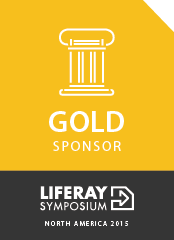 To learn more about the Liferay Symposium North America and to register, visit the event website.
To learn more on the Liferay expertise of Savoir-faire Linux, visit our website. Photographs of previous symposiums are published under a Creative Commons BY license (credit only) on our photo gallery on Flickr.
ABOUT SAVOIR-FAIRE LINUX
Since 1999, Savoir-faire Linux has developed a unique expertise in Free and Open Source Software, helping Canadian companies and public organizations to meet the challenges of information systems in constant evolution. With a multidisciplinary team of nearly 120 consultants (in 2015) based in Montreal, Quebec City, Toronto, and Paris, Savoir-faire Linux delivers services to over 500 organizations, including government bodies, major international agencies, industry giants, and SMEs/ SMIs. This great ISO 9001 and ISO 14001 certified company is a proud Silver member of the Linux Foundation, a Liferay Platinum Partner and a Red Hat Advanced Partner. It has also a strong presence in many Free Software communities.
ABOUT LIFERAY
Liferay, Inc. is a leading provider of enterprise open source portal and collaboration software products, servicing Fortune 500 companies worldwide. Clients include Allianz, BASF, Cisco Systems, Lufthansa Flight Training, Société Générale, Rolex SA, Siemens AG, The French Ministry of Defense, and the United Nations. Liferay offers Enterprise Edition subscriptions, which provide access to emergency fixes, software updates, 24/7 support SLAs, and subscription-only features. Liferay also offers professional services and training to ensure successful deployments for its customers.Liferay, Liferay Portal, and the Liferay logo are trademarks or registered trademarks of Liferay, Inc., in the United States and other countries.
PRESS CONTACT
Christophe Villemer
+1 514-276-5468 ext. 146 (mobile: 246)