Ring keeps surprising communication experts and enthusiasts! Ring is now available on Android TV box and other smart TVs. Ring has become the only  communication software available on the Google Play Store for Android TVs, since the discontinuation of support for the TV version of Skype in June 2016. This new release is quite different from its mainstream app which can be downloaded on a myriad of devices such as cellular phones, tablets, Mac and PCs.
Recall that Ring is a free, distributed and universal communication software, available under the GPLv3+ license. Ring users can communicate in different ways, using it as a telephone (VoIP), a media sharing tool (audio/video), a messaging system, or as a communication platform for connected devices such as the case of the Internet of Things (IoT). Ring is often seen as a free and open source alternative to Skype. Its success is based on a distributed and decentralized network that guarantees a high level of privacy and confidentiality for its users. The Ring project – which became a GNU package in 2016 – has the unwavering support of the community of developers around the world as well as the Free Software Foundation.
Rethinking Ring for the Android TV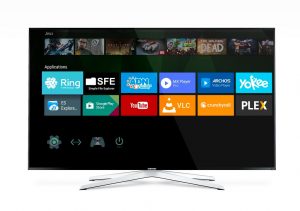 In order to make sure you will have a satisfying and enjoyable user experience, our developers have reworked the user interface of the Android Ring application to adapt it to Android TV standards. To accomplish this task, it was necessary to rethink the ergonomics and navigation of the Ring application to ensure it functions with a remote control and graphic components offered by the platform.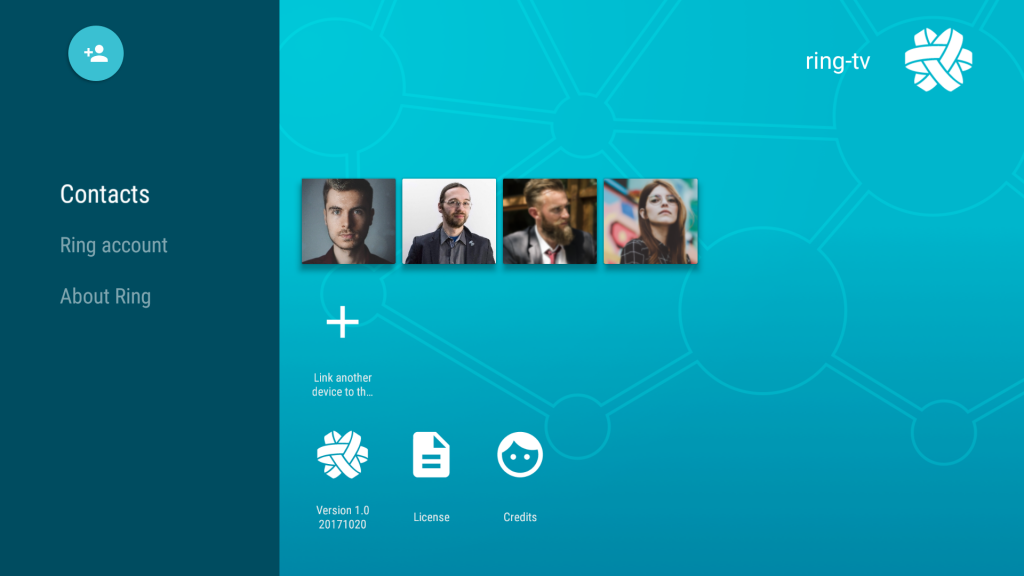 In fact, the architecture pattern underlying Ring Android application allows  developers to transfer the entire dependencies and data parts of the mobile version onto the TV app so as to be able to completely focus their attention on the GUI part.
Usability constraints have led developers to focus on key features like:
Contact search,
Online audio/video calls,
Shared screen display from the caller.
These features remain small, but the development continues to offer in coming weeks, expanded use possibilities. Having been designed with the objective of simplicity, stability and user-friendliness,  Ring can serve both domestic and professional needs. It can be used on Android TVs to connect family members together, or simply replace conference phones in corporate meeting rooms.  In fact, availability of the Ring as a TV app on the Google Play Store makes it an easier-to-use communication platform, in comparison to a secondary computer or display setup.
Help us to improve Ring!
Ring is constantly improving to offer the best of communication. As the software is in active development process, some bugs remain and many challenges still await our team of developers. The assessments provided by the community of users, testers, and developers on the quality and use of the platform are then essential to help us identify problems, resolve them, and improve the experience.
For the next release of Ring on Android TV, lot of questions are focused on the compatibility of systems and webcams, other than Logitech as well as NVHI hardware. Also, we encourage curious, free software users and enthusiasts to test Ring on different medias and different systems. Your experience was a success? or crashes remain with your TV or TV box? Send us your comments at Ring@savoirfairelinux.com. You will also contribute to the success of Ring!
Download Ring on Android TV
If you want to experience this new communication platform, just download it for free from Google Play Store!
For further information: