July 21, 2017 – Savoir-faire Linux releases the stable version of Ring:  Ring 1.0 – Liberté, Égalité, Fraternité. Ring is a free/libre and universal communication platform that preserves the users' privacy and freedoms. It is a GNU package. It runs on multiple platforms; and, it can be used for texting, calls, and video chats more privately, more securely, and more reliably.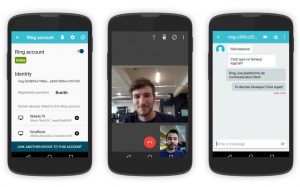 About Ring
Ring is a fully distributed system based on OpenDHT technology and Ethereum Blockchain. It means, it does not need any central authority, an enterprise or even a server to function. Therefore, it avoids keeping centralized registries of users and storing their personal data. In addition, Ring is based on standard security protocols and end-to-end encryption. Therefore, it prevents decryption of communications over the network and consequently offering a high level of privacy and confidentiality.

Key Functionalities and Features
– Encrypted Audio/VideoHD/InstantMessaging Communications (ICE, SIP, TLS)
– Screen Sharing and Conferencing (Win32 and GNU/Linux)
– Support of Ethereum Blockchain as Distributed Public Users' Database
– Distributed Communication Platform (OpenDHT)
– Platform Support on GNU/Linux, Windows UWP (Windows 10 and Surface), macOS (10.10+) and Android (4.0+)
– Distributed under GPLv3+ License
– Parts of Ring can be used as a building block in any Internet of Things (IoT) project
Ring: An Impactful and Inspirational Social Innovation
Ring is based on the state-of-the-art technologies (OpenDHT) and follows strict ethical guidelines. Together, a mix of free software technologies, and ethical rules offers end-users: leading edge privacy and anonymity, confidentiality as well as security of conversations. In addition, its stable connectivity and innovative standard functionalities over multitude of platforms make it a suitable choice for an everyday communication. 
Important Links
> Download Ring
> Contribute to Ring
> Technical documentation