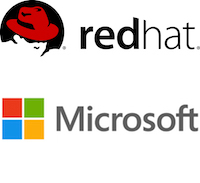 After months of negotiation, the Red Hat Microsoft cloud partnership was announced on November 4th. This agreement of historic proportions heralds radical changes in the global computing ecosystem. It will have significant impacts on many organizations in Quebec and elsewhere in the world.
This partnership deals with two important elements:
Public cloud with Azure
Microsoft's Azure Cloud hosting platform will receive over the coming months Red Hat certifications authorizing the provision of supported versions of the open source global leader's products (Certified Cloud and Service Provider). All of Red Hat environments will be ported to Azure — Red Hat JBoss Enterprise Application Platform, Red Hat JBoss Web Server, Red Hat Gluster Storage, OpenShift, and so on. In practical terms, thanks to the Red Hat Cloud Access program, Red Hat users will have the option of using and/or migrating their subscriptions to Microsoft's public Cloud hosting platform.
.NET Software Framework
The .NET framework whose code has been opened by Microsoft a few months ago will be accessible through the Red Hat offer — in particular, through Red Hat OpenShift and Red Hat Enterprise Linux.
Hybrid Cloud For Heterogeneous Environments
During the formalization of this partnership, both American companies have stated that they want to promote Red Hat Enterprise Linux as "the preferred choice for enterprise Linux workloads on Microsoft Azure". More generally, both organizations announced that they will work together to develop an hybrid open source cloud computing offer. In respect to users and client companies the objective is clear: to enable Windows and Linux private infrastructures to migrate smoothly on Microsoft's public cloud.
This historic announcement adds to important underlying trends in the industry. Four weeks ago, Apple announced that it was dropping esXi VMware virtualization and moving from there to KVM and an OpenStack environment. Apple also announced earlier this year it had moved to the open source Mesos platform its smartphone intelligent assistant service.
Microsoft, Apple but also Cisco, EMC, and Oracle — companies that have not always supported open source, if the did not fight it — are gradually embracing open technologies. Here is another proof that open source is becoming the standard for information technology and innovation. This is probably a major generational change. It remains to be seen how long this will take large and medium size companies — especially in Quebec — to follow this evolution and take advantage of its benefits. Time will tell.