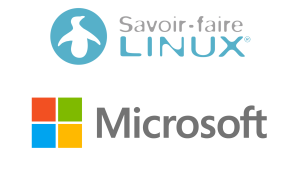 We are happy to have completed a joint project – an informative video – with Microsoft on the relevance and significance of open source technologies in the Azure cloud environment.
First Microsoft Open Source Partner in Canada
We are the first "Microsoft Open Source Partner" in Canada. This partnership has been a testimony to our ability to implement free and open source technologies in hybrid ecosystems such as Azure cloud computing platform. Since then, we have been well positioned to help our clients leverage the power of the Azure cloud for their information systems (IS) based on open source software.
Since we are the front-runner in the open source software industry in Canada, it makes sense for Microsoft to appreciate our technical approaches to fit open source technology into the bigger picture of organizations' information systems. The real winners of partnerships of such complementary nature are Canadian customers and end-users for we collaborate together to support our clients' cross-platform IS requirements by bringing into the table "the best of the both open source software and cloud" worlds. Put simply, while the flexibility offered by adoption of open source technologies enables clients to do 'mix and match' and create their own unique IS, Microsoft Azure ensures reliability, flexibility and scalability of solutions as a cloud platform. For a snapshot of how Savoir-faire Linux views the symbiosis between Open source software technologies and Azure cloud computing platform, you can watch the video – a joint effort which testifies our shared vision of OSS-based enterprise IS solutions.