For the first time, Savoir-faire Linux will be this year a sponsor of LDAPCon 2015, which will be held on November 11th to 13rh at the Edinburgh University, in Scotland. It is in fact the fifth International Conference on LDAP, Directory Services and Identity Management:

Today, LDAP means:
A third-generation protocol that was revised in 2006.
An open and interoperable ecosystem of commercial servers (Novell, Apple, Microsoft, IBM, Oracle, etc.) and open source servers (Apache Directory Server, OpenLDAP, 389 DS, OpenDJ, etc.).
Many free software and open source spin-offs (Apache Directory Studio, Fusion Directory, LDAP Toolbox, LemonLDAP::NG, LDAP Synchronization Connector, phpLDAPadmin, etc.)
An authentication standard supported by a phenomenal number of free and non-free software, from heavy clients to web apps.
"LDAP is the key to interoperability of identification"
According to Jonathan Le Lous, « Identity management has always been the key, the central node of communication in information systems, and it remains a critical issue for all customers and organizations we work with today. » In fact, from tech companies to banks through transportation groups or any other industry, IT infrastructures are increasingly and massively dependent on Linux and cloud computing environments. « The essential question is: how I, who basically manage Windows users, how can I allow them to communicate openly and safely in Linux, Mac OS and cloud computing environments? LDAP plays a vital role in making communication between these environments possible. »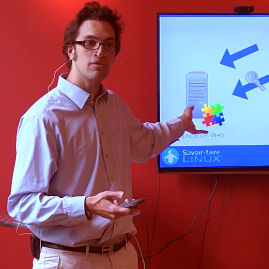 Clément Oudot, a Security and Infrastructure expert and a contributor of the LemonLDAP::NG project, will be delegated by Savoir-faire Linux at LDAPCon 2015. He will monitor the conference program for us and he himself will host a presentation of the protocol OpenID Connect.
"This event is very important for the LDAP community, which meets every two years to present its new software and make live this standard", he says. "The subjects are quite varied, from the introduction to new protocols to feedback sessions on critical architectures. I for my part look forward to attending Howard Chu's conference who will discuss the latest advances OpenLDAP."
Special Giveaway!
We have a free ticket for LDAPCon 2015 to offer — a £180 value. If you are interested, feel free to contact Clément via one of his social media accounts. First-come, first-served! 😉