July 21, 2017 – Savoir-faire Linux releases the stable version of Ring: Ring 1.0 – Liberté, Égalité, Fraternité. Ring is a free/libre and universal communication platform that preserves the users' privacy and freedoms. It is a GNU package. It runs on multiple platforms; and, it can be used for texting, calls, and video chats more privately, more securely, and more reliably.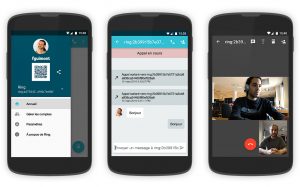 About Ring
Ring is a fully distributed system based on OpenDHT technology and Ethereum Blockchain. It means, it does not need any central authority, an enterprise or even a server to function. Therefore, it avoids keeping centralized registries of users and storing their personal data. In addition, Ring is created based on strict ethical protocols. This means, it uses end-to-end (client-to-client) encryption. Therefore, no one will be able to decode your private conversations over the network. In other words, higher level of privacy and confidentiality is offered.
Key Functionalities and Features
– Encrypted Audio/VideoHD/InstantMessaging Communications (ICE, SIP, TLS)
– Screen Sharing and Conferencing (Win32 and GNU/Linux)
– Support of Ethereum Blockchain as Decentralized Public Users' Database
– Decentralized Communication Platform (OpenDHT)
– Platform Support on GNU/Linux, Windows UWP (Windows 10 and Surface), macOS (10.10+) and Android (4.0+)
– Distributed under GPLv3+ License
– Parts of Ring can be used as a building block in any Internet of Things (IoT) project
Ring: An Impactful and Inspirational Social Innovation
Ring is based on the state-of-the-art technologies (OpenDHT) and follows strict ethical guidelines (end-to-end or client-to-client encryption protocol). Together, a mix of free software technologies, and ethical rules offers end-users: leading edge privacy and anonymity, confidentiality as well as security of conversations. In addition, its stable connectivity and innovative standardized functionalities over multitude of platforms make it a suitable choice for an everyday communication. 
Important Links
> Download Ring
> Contribute to Ring
> Technical documentation