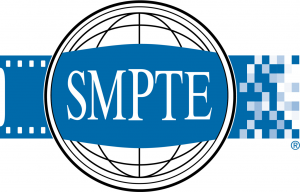 Savoir-faire Linux participated at the Society of Motion Picture and Television Engineers (SMPTE)'s BootCamp 2017 having the overarching topic of Media in the IP Era. This bootcamp was organized by the Montreal SMPTE Committee including the main actor, CBC (Radio-Canada), and was held at L'École de technologie supérieure (ÉTS), June 12-13, 2017.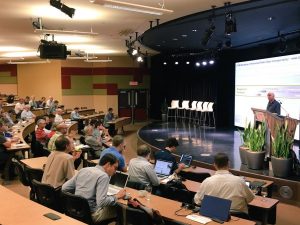 The Event's Focus and Our Role

The SMPTE, including the Montreal/Quebec chapter, has three key goals: educating players in the media and broadcasting industry, communicating the latest technological developments, as well as encouraging networking and interaction among industry stakeholders. This year, the SMPTE's BootCamp 2017 rallied participants around the following topics:
a) IP transport and the SMPTE 2110 Standards,
b) Virtualization and software.
On this occasion, our open source software (OSS) consultants: Éloi Bail and Amir Taherizadeh, jointly delivered a talk entitled Open Source Software: A Tool for Digital Transformation in the Broadcasting Industry. The first part revealed the empirical results of our joint R&D project with Radio-Canada on "how to handle IP contents in the cloud". This includes deploying FFmpeg OSS technology on a general purpose server in order to transmit raw data at speed of 3.5 Gbps without relying on specialized hardware broadcasting equipment. In addition, Éloi demonstrated to the audience the actual data transmission, and performance on the stage in real time with the help of two generic servers and a switch. This showcases for the participants the technical implications and potential of FFmpeg in broadcasting industry for the years to come.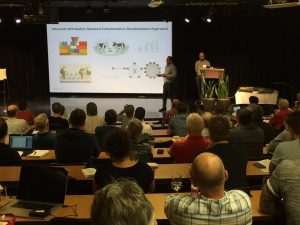 The second part explores the nature, inherent attributes, myths, advantages, challenges, and licensing opportunities associated with OSS. It explains OSS as a relevant, significant, and ubiquitous tool in a variety of industries including, but not limited to, aerospace as well as media, entertainment and broadcasting industries. The aerospace industry presents an interesting case as it is somewhat comparable to broadcasting industry on three dimensions. It is a rather closed and highly standard-governed industry. It is capital intensive and advances rapidly. There is also a complex and symbiotic interrelationship between hardware and software components. Amir has presented an example where the networking stack of the Linux kernel drives the multi-media equipment of an aircraft. This case demonstrates how value-added solutions can be created having adopted an open and collaborative value creation process. Indeed, OSS projects like the Linux kernel and FFmpeg are testimonies to collaborative software development where private companies and communities work together towards a common objective. In what follows, you find a brief summary of the event from our representative s' perspective.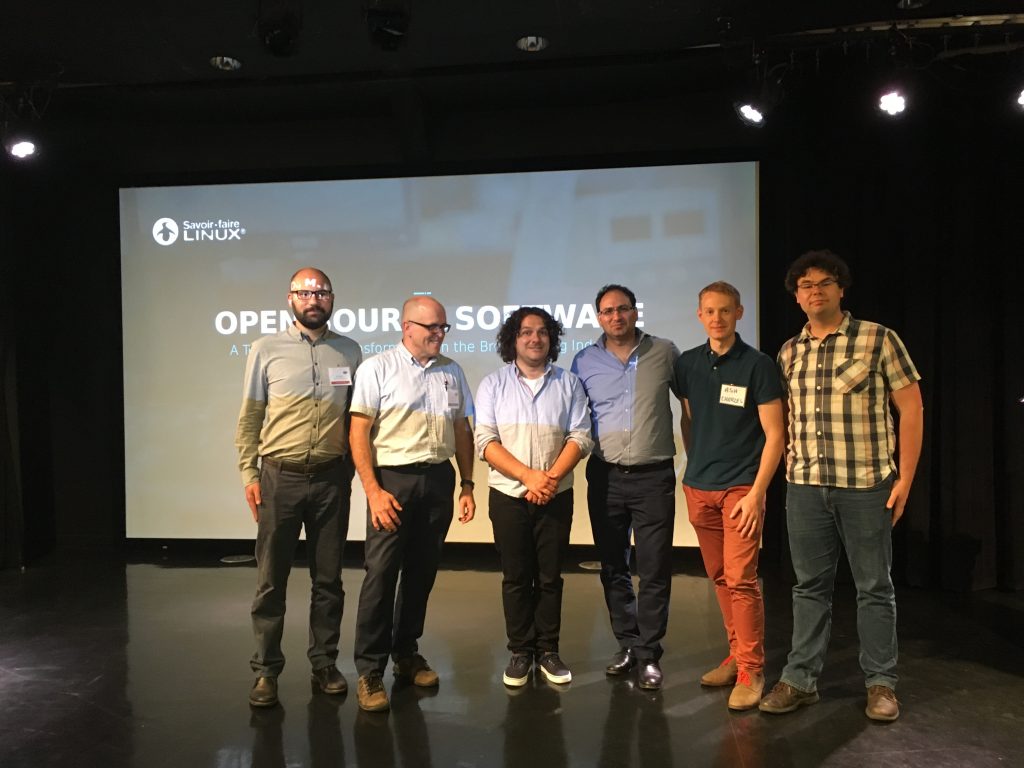 Amir Taherizadeh (PhD, MBA): Reflecting upon SMPTE® BootCamp 2017 Montreal Chapter…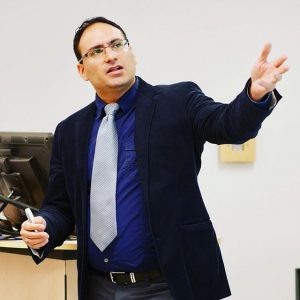 I found the BootCamp exceptional, dynamic and forward-looking! Definitely a learning experience wrapped around two days of presentations, case studies, Q&A, and one-on-one technical discussions. You could easily see the upcoming trend, i.e., virtualization and cloud computing. There was a shared wish among many broadcasters and technology providers to move the media production infrastructure towards more use of IP – i.e., replacing Serial Digital Interface (SDI), cabling and physical complexities – and benefiting from the flexibility, scalability, agility, and redundancies offered by IP networks and cloud computing.

In several case studies from around the globe (e.g., Belgium, Canada, Luxembourg, Norway, USA, etc.), presenters discussed not only the main advantages of this upcoming technological change, but also shared and discussed their experiences about disadvantages, challenges and uncertainties associated with the shift. Some key issues underlying the heavy reliance on IP-based infrastructures and hybrid IT and broadcasting know-how include the following:
Unknown expected scaling scope actually needed; i.e., untested real scaling practices,

Unclear cost analysis methods and realistic evaluations,

Unknown skills required for such technological transformation,

Being undecided about what tools will be exactly needed and how to use them effectively,

Challenges of reorganizing and orchestrating the workforce and the work flows., etc.
As a case in point, on occasion a broadcasting facility uses IP switches, there is high possibility of packet loss which demands a variety of techniques bundled together in order to manage the data traffic effectively and to police the data flows appropriately. The situation is further exacerbated when early adopters are faced with technologies which are not quite mature yet.
Irrespective of the bumps on the road to full conversion to virtual networks, and software-based solutions, the majority seem convinced that this is the way forward for the industry to not only survive but thrive. Darwin's quote perhaps best describes the current situation.
"It is not the strongest of the species that survives, nor the most intelligent, but the one most responsive to change." Charles Darwin, 1809
It is, thus, not a question of why any more, but how and how fast! This positive forward-looking approach, in my opinion, presents an opportunity for mature OSS projects to be a part of the virtualization solution. This accordingly calls for the expertise of OSS service providers such as Savoir-faire Linux to accompany broadcasters with their expertise and social capital from communities in their digital transformation journey.
Looking Ahead: A Call for Action
Overall, we found this event as an important step forward in further balancing the role of software – including OSS – in broadcasting industry. This implies an even more highlighted potential for a variety of instrumental open source technologies including FFmpeg, GStreamer, VLC but not limited to them. As a leader in this field, we strongly believe it is our duty not only to openly discuss multiple implications of deploying OSS solutions in downstream industries (e.g., media, aerospace, etc.), but also to empirically diffuse the results of our R&D projects through the public. These experiments on FFmpeg (see notes 1 & 2 below) speak for themselves and open new horizons that can convince decision makers to further collaborate with us and CBC/Radio-Canada in order to test the limits of open source technologies and further push their technological boundaries. As the old African proverb goes:
"Tout seul, on va plus vite. Ensemble, on va plus loin."
"Alone, I go faster; together, we go further."
In conclusion, the inherent attributes of OSS value creation process, today's mandate for adopting open business models, and most important of all, the technical requirements of entertainment, media and broadcasting industry call upon us to pull our intellectual forces together to contribute to FFmpeg and its application in this industry through the following routes:

1. Full decoding, transcoding, streaming in software,
2. Cloud based solution scalable for streaming demands,
3. Synchronization over PTP, 
4. Handling of several streams,
5. IRQ model,
6. Busy polling,
7. Check latency.
While the past cannot be changed, the future is yet in our power. Let's work together to shape it.

Notes:
[1] https://patchwork.ffmpeg.org/patch/3225/
[2] https://patchwork.ffmpeg.org/patch/3224/